Discover more from Fifty Years News
Subscribe for the hottest gossip in the Fifty Years universe
Over 5,000 subscribers
Ansa Bio
Fifty Years partners with Ansa Bio to enable faster, cleaner, more accurate DNA synthesis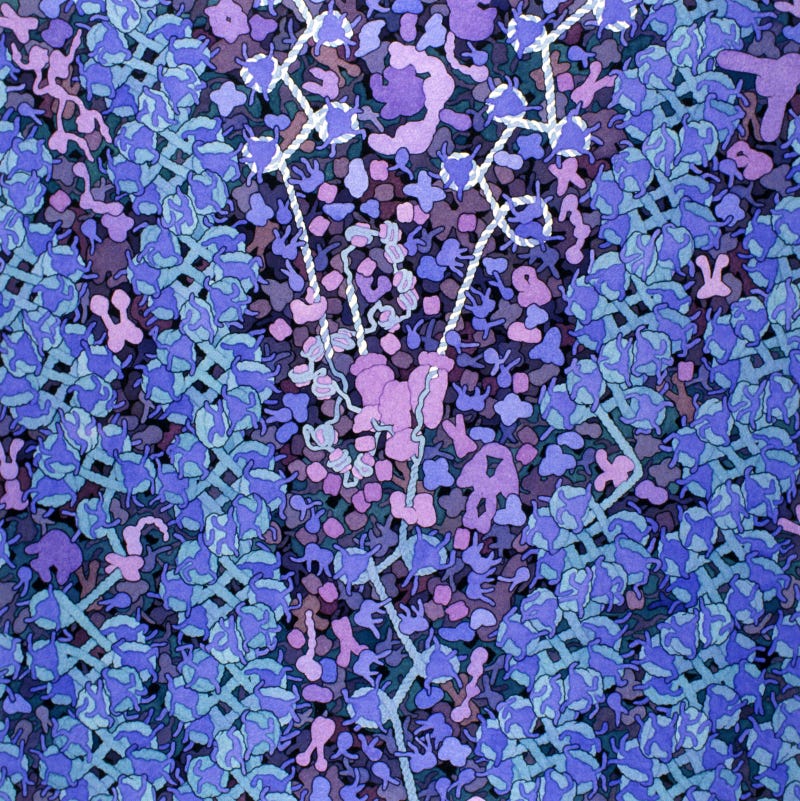 The enzyme DNA polymerase (purple, center) is unwinding and copying DNA (blue rope at bottom) to create two new strands of DNA (blue and white rope at top). Image by David Goodsell.
Imagine trying to write a Tweet without a keyboard or voice-to-text. You might copy and paste words and letters from different documents to pull it off. Not terrible. Now imagine doing the same thing for a blog post or even a book. It's possible to copy and paste your way though, but it would be extremely laborious and limit creativity.
Copy and paste is the stark reality for synthetic biologists who manipulate DNA -- the instruction manual of the cell -- to reprogram organisms with novel functions. The advent of next generation sequencing has massively enabled us to read DNA sequences and CRISPR has made editing DNA much more feasible than ever before. But to write new stretches of DNA is still very limited. For very short lengths, we can purchase chemically synthesized DNA with a specific sequence. However, for long pieces such as whole genes, we copy them from other sources using a method called polymerase chain reaction (PCR), or laboriously stitch them together from small synthetic pieces of DNA. Just as writing a book by cobbling together words copied and pasted from other documents would be long and arduous, cobbling together long stretches of DNA from multiple sources has limited synthetic biology.  
We need a way to synthesize long stretches of DNA to massively increase the speed at which we build new genetics and the space that synthetic biology can explore.
Traditional chemistry has failed to meet this demand. These methods make DNA linearly by adding one nucleotide -- the A, T, G, and Cs that make up the building blocks of DNA -- at a time. To add a specific nucleotide, the existing strand is chemically forced to become reactive, the new nucleotide is shoved on, and the resulting strand is stabilized. This process is iterated over and over again until the sequence is complete. The most common way to do this -- phosphoramidite synthesis -- is messy and far from 100% efficient, meaning that at each step failed DNA strands are chemically removed and lost to the final yield.
Compounding messiness leads to an enormously limited process. For example, if each addition is 99% efficient, then a 20 nucleotide long piece of DNA will only have about 82% yield (0.99²⁰). For a DNA stretch the size of a gene -- say 1,000 nucleotides long -- the yield is a measly 0.004%! Beyond the yield issue, this method uses toxic materials, creates hazardous and unsustainable waste, and is extremely sensitive to environmental variations such as moisture. We need a better way to make DNA.
Nature has a better way. Every cell on earth, from bacteria to fungi to human, uses enzymes to make DNA. At greater than 99.99% efficiency, enzymes are naturally much better at adding on nucleotides than any chemical process ever could be. If enzymes are so good at this, why are we stuck with chemistry? Because enzyme engineering is hard and no one has developed a technology to control enzymes in a way that allows for precise user-defined sequences to be created.
Enter Ansa Bio. During their time in Jay Keasling's lab at the University of California, Berkeley, Ansa Bio co-founders Dan Arlow and Sebastian Palluk laid the foundation for fully enzymatic synthesis of precise DNA sequences in a paper published in Nature Biotechnology. By making modifications to a natural DNA building enzyme called Terminal Deoxynucleotidyl Transferase, they demonstrated the ability to create 10 nucleotide long strands of precise DNA sequences at extremely high efficiency.
This is the team to bring enzymatic DNA synthesis mainstream. After graduating from MIT, Ansa co-founder & CEO Dan Arlow worked at D. E. Shaw Research building molecular simulations of proteins. He then got his PhD at UC Berkeley in Jay Keasling's lab, where he developed the core Ansa tech with his co-founder and Ansa CTO Sebastian Palluk. They bring together computational biology expertise with wet lab chops and have over 25 years of genomics experience between them. 
Since spinning out, Ansa Bio has made huge strides in length, efficiency, and automation. In doing so, they will soon be able to provide long stretches of DNA cheaply, sustainably, and with a quicker turnaround time than ever before. No more mashing together smaller pieces of chemically synthesized DNA. Importantly, Ansa's method is the first ever fully enzymatic DNA synthesis technology. Utilizing the efficiency and speed of enzymes means that we get to the same DNA length quicker and with less effort. This means cheaper and faster design-build-test cycles for all synthetic biologists.
With herculean effort, scientists built a five million nucleotide long E.coli genome from scratch by stitching together DNA molecules made using chemical synthesis. Using Ansa's technology, this feat could become routine lab work. This opens up the possibility for us to develop a bottom-up understanding of how cells function. We could precisely add new genes to the cell, giving it novel and useful functions. We could even completely recode the cell to have additional building blocks at its disposal, allowing new enzymes and other proteins to be built and tested. 
Ansa Bio will let us go much further. By enabling longer and faster DNA synthesis, Ansa Bio may allow us to assemble genomes billions of nucleotides long. Synthetic biologists won't simply reprogram cells with new functions by adding a few genes -- they'll build novel genomes from scratch. This will lead to cells that cure disease, address climate change, and radically change society and the planet for the better. That's a science fiction future we want to help make a reality.
At Fifty Years, our sweet spot is supporting founders at the earliest stages building deep tech companies that can generate huge financial outcomes and create massive positive impact.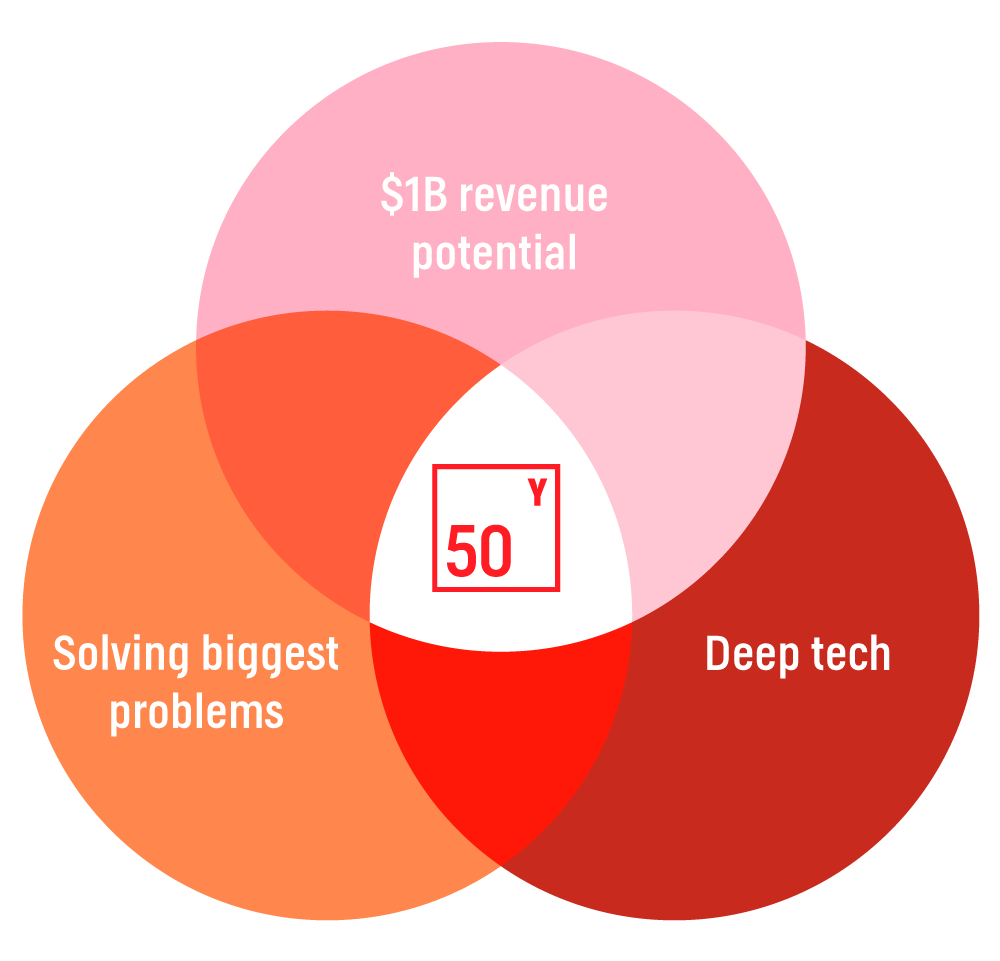 Deep tech: Dan and Sebastian spent years developing the core IP in academia and are now scaling up its efficiency, fidelity, and speed for commercialization.

$1B yearly revenue potential: DNA read, edit, and write are core pillars of synthetic biology. Ansa Bio has the potential to be a core infrastructure layer for the synthetic biology industry. 

Massive positive societal impact: By enabling synthetic biologists to write DNA faster and at longer length than previously possible, Ansa Bio's platform accelerates the development of transformative technologies like metabolic engineering, cell-based therapies, sustainable bio-production, and more.
Inspired by their technology and vision for its future, Fifty Years was excited to lead Ansa Bio's previously unannounced pre-seed round. We're thrilled to welcome Seed round lead Horizons Ventures to the team, as well as new investor Mubadala Capital. Ansa Bio is a model for how brilliant inventors can move their work from academia to industry; a narrative that inspires us here at Fifty Years.