Discover more from Fifty Years News
Subscribe for the hottest gossip in the Fifty Years universe
Over 5,000 subscribers
Manifold Bio
Fifty Years partners with Manifold Bio to reimagine biologics development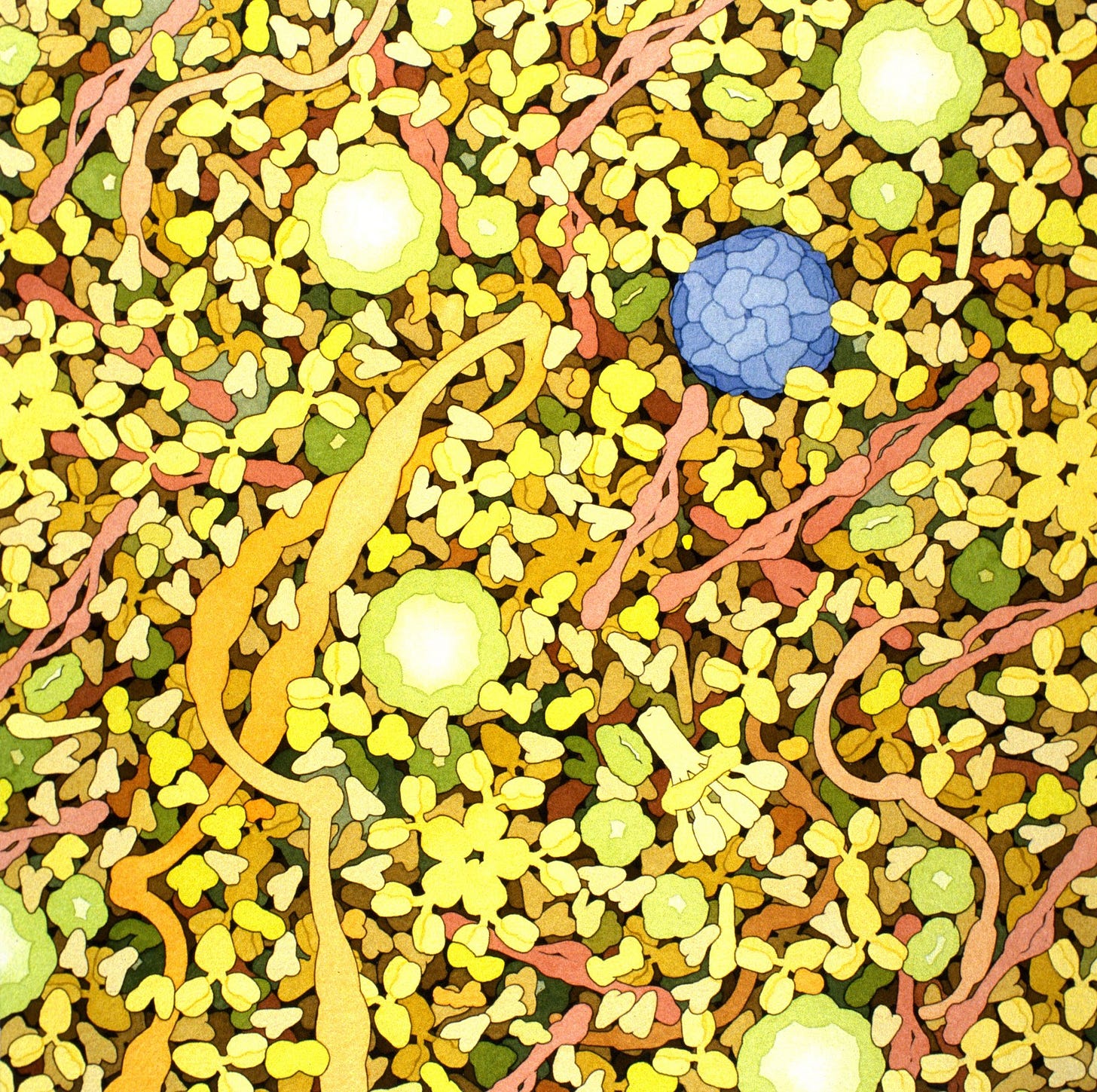 Human serum contains Y-shaped antibodies, the foundation of biologics. Image by David Goodsell.
Pharmaceutical drugs are basically useful poisons. Pharma companies spend enormous sums of cash to rapidly find ones that adequately balance the two opposing forces of safety (don't disrupt good biological processes) and efficacy (disrupt bad biological processes). Advances in biotechnology like CRISPR, live microscopy, machine learning, and automation have made discovering potential drugs quicker and easier than ever before. But to check if these potential drugs work in a physiologically relevant setting, we still just give a mouse a drug and pray it works the way we expect it to. Or at the very least that it doesn't kill the animal.
Drug discovery starts by analyzing a disease to find something to target. Then libraries of small molecules or biologics are added one-by-one to cell lines grown in petri dishes, discovering those which have potential to inhibit the disease. The ones that seem to work are introduced into multiple animal models to understand their toxicity and efficacy before they can move to human clinical trials.
The paradigm is backwards and unnecessarily expensive. Why screen drugs in a petri dish that would be too toxic, quickly cleared by the kidneys, or unable to reach the desired target in an animal model? The simple answer is: we haven't had a better way. Manifold Bio is out to change that.
We first met Manifold Bio co-founder and CEO Gleb Kuznetsov through Sri Kosuri -- co-founder & CEO of portfolio company Octant Bio. We were immediately captivated by the vision Gleb and his co-founder and Manifold Bio Chief Scientific Officer Pierce Ogden offered: what if we could simultaneously screen thousands of protein therapeutics directly in relevant animal models? They envision a future where biologics discovery, optimization, and animal models are reduced to a single step! This is exactly the future they're working to build, along with their Manifold Bio co-founders Shane Lofgren and George Church.
And they've made great strides toward this vision. Powered by research done during Gleb and Pierce's time in George Church's lab at Harvard, Manifold Bio develops novel protein tags that are added directly onto a biologic, giving each a unique molecular identifier. Libraries of biologics are infused into a SINGLE mouse that models some disease. Using a proprietary decoding method, they know which biologics overcome the barriers set by natural bodily processes and can reach their target to inhibit the disease.
Let's take the example of a mouse bearing a pancreatic tumor, a particularly difficult tumor to treat and a holy grail of drug discovery. An injection of a library of Manifold Bio's tagged biologics begins reducing the tumor burden, meaning a drug has worked. Using their novel barcode decoding platform, Manifold looks at all the cells within the tumor (the cancer cells, immune cells, support cells, etc.) and sees which biologics are associated with desired changes, such as immune cell activation or cessation of growth signaling in cancer cells. They use the same tagged hits in subsequent studies to dissect their action, their engagement with critical healthy cells, as well crucial features of drugs like the ability to express, purify, and store well for long periods.
Most importantly, they never needed to know what exactly to target in the tumor.
Manifold has unlocked reverse target discovery; an unbiased approach to drug development without ever needing to know molecular phenomenon beforehand. While this isn't strictly new, Manifold's technology creates biologics faster, leading to more total potential drugs and faster validation of those hits. In other words, they complete a full discovery pipeline in the time that traditional drug discovery pipelines would need to set up target-discovering CRISPR screens or squirt drugs on cells one at a time.
The potential of this technology does not stop there. With the same methodology they can easily test and learn the rules underlining grand challenges in the protein engineering space, such as the ability to penetrate the blood brain barrier. 
Simultaneously asking which biological functions NEED to be hit to cure a disease and which functions CAN be safely hit by the biologics available to us means Manifold can reach patients quicker than ever before. Manifold greatly accelerates the drug discovery pipeline by massively increasing throughput at each step of the process, especially in the animal that models disease the best.
By enabling high throughput in vivo screening of protein therapeutics, Manifold Bio can discover new biologics at scale. Manifold Bio's platform enables them to find better biologics with less time, lower costs, and fewer animals.
One can't help but wonder if, with a technology like Manifold Bio's, we might one day be able to skip both petri dish based screens and animal models altogether, by screening biologics known to be safe directly in patients. That's a science fiction future we're excited to help make a reality.
At Fifty Years, our sweet spot is supporting founders at the earliest stages building deep tech companies that can generate huge financial outcomes and create massive positive impact.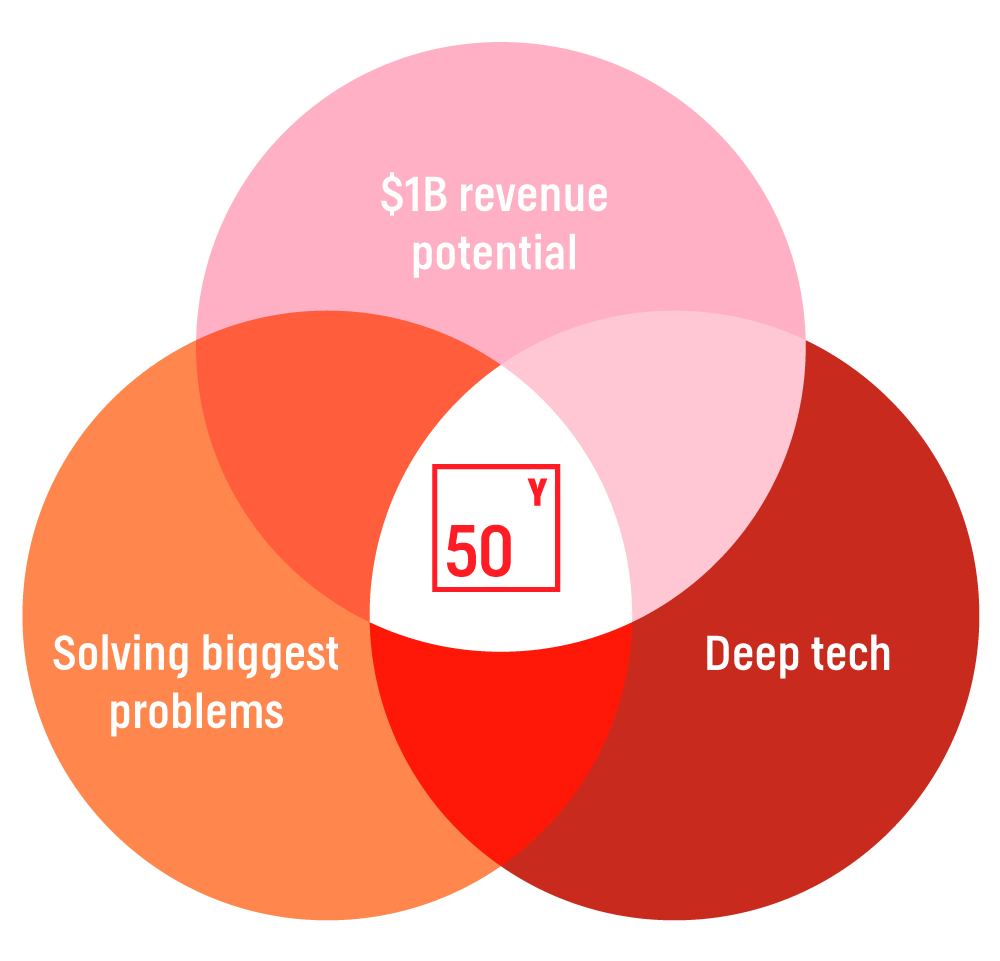 Manifold Bio checks all the boxes in a big way.
Deep tech: The co-founders tap into their deep technical expertise in massively parallelizing synthetic biology's design-build-test cycle and bioinformatics to build their platform.

$1B yearly revenue potential: By partnering with pharma and making their own biologics, Manifold has the potential to become the gold standard method of discovering every biologic that goes through the FDA.

Massive positive societal impact: Reducing the time, resources, and energy spent finding a drug means new ones reach patients at unprecedented speeds. Manifold's approach will enable better biologics to reach patients at a lower cost, and significantly reduce the number of animals needed in drug testing.
Emboldened by their vision of a better future, Fifty Years was proud to lead Manifold Bio's previously unannounced pre-seed round and to deepen our partnership in the seed round led by Playground Global. At Fifty Years, helping great scientists become great entrepreneurs is our jam, and we're looking forward to helping Gleb, Pierce, Shane, and George make their vision of high-throughput, in vivo biologics discovery a reality.